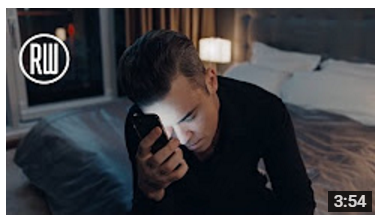 ROBBIE WILLIAMS desvela el videoclip de «Mixed Signals»
ROBBIE WILLIAMS DESVELA EL VIDEOCLIP DE 'MIXED SIGNALS'
SU ÁLBUM #1 THE HEAVY ENTERTAINMENT SHOW ES DISCO DE PLATINO EN REINO UNIDO
Robbie Williams lanza el videoclip de su nuevo single, 'Mixed Signals', perteneciente a su álbum #1 y ganador del Disco de Platino, The Heavy Entertainment Show.
El vídeo muestra a Robbie convencido de que su pareja está teniendo un affaire y ve cómo ella se prepara para lo que parece una cita con otro hombre. ¿Pero es así realmente o se está volviendo paranoico? En cualquier caso, la historia dará un nuevo giro…
El single fue escrito por Brandon Flowers, y en él tocan todos los miembros de The Killers. La canción fue producida por el ganador de tres Premios Grammy, Stuart Price.
Este año, Robbie se embarcará en una gran gira europea de estadios, en la que ofrecerá 31 conciertos en 19 países. La gira comenzará en el Etihad Stadium de Manchester (Reino Unido) el 2 de junio y terminará su recorrido por Reino Unido el 23 de junio con un concierto en el Queen Elizabeth Olympic Park de Londres. Erasure acompañarán a Robbie como artistas invitados especiales.
Fechas de la gira:
JUNIO
2 Etihad Stadium, Manchester, Reino Unido
3 Etihad Stadium, Manchester, Reino Unido
6 St Mary's Stadium, Southampton, Reino Unido
9 BT Murrayfield Stadium, Edinburgh, Reino Unido
13 Ricoh Stadium, Coventry, Reino Unido
17 Aviva Stadium, Dublín, Irelanda
21 Principality Stadium, Cardiff, Reino Unido
23 London Stadium (Queen Elizabeth Olympic Park), Londres, Reino Unido
28 Espirit Arena, Dusseldorf, Alemania
JULIO
1 AccorHotels Arena, París, Francia
4 Goffertpark, Nijmegen, Holanda
8 Werchter Festivalpark, Bélgica
11 HDI Arena, Hannover, Alemania
14 Stadio Bentegodi, Verona, Italia
17 Collisioni Festival, Barolo, Italia
19 Commerzbank Arena, Frankfurt, Alemania
22 Olympiastadion, Munich, Alemania
25 Waldbühne, Berlín, Alemania
26 Waldbühne, Berlín, Alemania
29 Tele2 Arena, Estocolmo, Suecia
AGOSTO
4 Bergenhus Fortress, Bergen, Noruega
7 Telia Parken, Copenhague, Dinamarca
10 Tampere Ratina Stadium, Finlandia
16 Vingis Park, Vilnius, Lituania
19 Airport Letnany, Praga, República Checa
23 Groupama Arena, Budapest, Hungría
26 Ernst Happel Stadium, Viena, Austria
29 Wörthersee Stadium, Klagenfurt, Austria
SEPTIEMBRE
2 Letzigrund Stadium, Zúrich, Suiza
7 Ledovi Dvorets Palace, San Petesburgo, Rusia
10 Olympiski, Moscú, Rusia
'The Heavy Entertainment Show' ya a la venta.